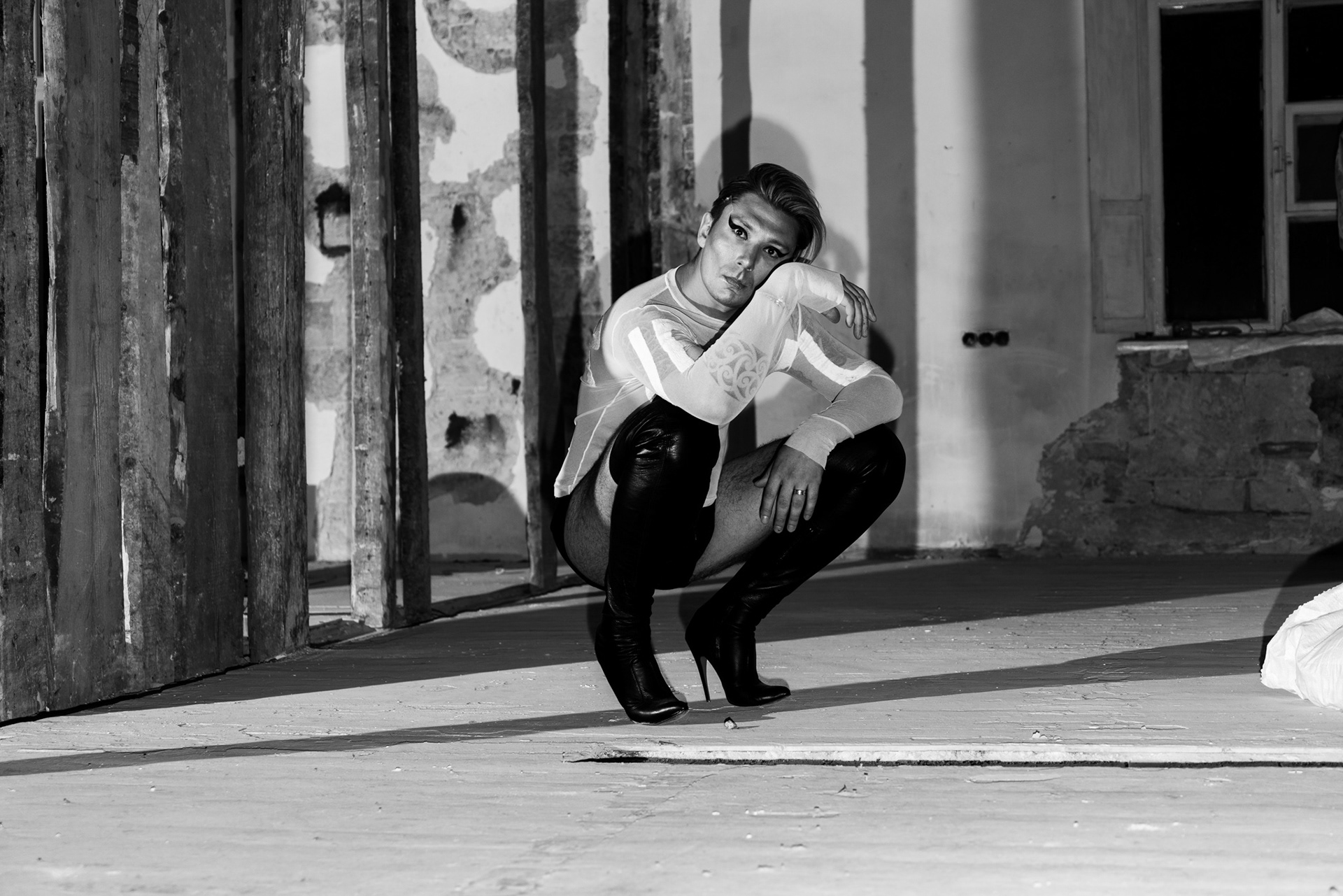 First steps

The boundaries between masculinity and feminist are becoming transparent.

The reason why the change of gender roles is so important - from Billy Porter on the red carpet of the Oscars wearing skirts and heels to transgender models on the covers of the magazine - they show that society is gradually moving out of blind spots on issues related to gender

Denis: "I had a dream. I wanted to try female role and walk on high heels. But I wear shoes of the 45th size. It is impossible to find high-heeled shoes of this size here in Odessa! "

Elena: This summer I found a pair of 45 sized jackboots on a flea market. And Denis's dream came true

People should see diversity, not just binary standards that capture feminine or hypersexual women and muscular men

Elena: "I decided that the elongated cat's eyes will allow us to get away from stereotypic overloaded drag queen make-up and get more concise and sculptural look

Denis : "Show me Linda! - Ivan told me during the shooting. It was not easy to do, the arch support on one of the boots was broken. "I spent the whole shooting, more than 4 hours, at half-fingers"

Looking at this, a teenager somewhere in a small town in Ukraine will stop thinking that something is wrong with him

Ivan: "photography is pure art for me. It doesn't matter whether a man or a woman, a gay, a lesbian or a pansexual is in front of me. No matter whether a model defines her/himself according to the binary system or not, whether he/she has a penis or breasts. Pure art doesn't care about this.

We must go beyond archaic stereotypes in order for society to develop socially. Art is both a catalyst and a litmus test of the changes taking place in Ukrainian society

Society must go over and beyond archaic stereotypes in order to develop. Art is both a catalyst and a litmus test for the changes that are tacking place in the Ukrainian society.

Love and equality are what should unite people